Are you in the process of planning the perfect LGBTQ wedding in Las Vegas? Whether it will be an intimate affair or the event of the year, you are in for a whirlwind adventure- and a lot of planning! For every picture-perfect wedding, there is a lot of behind the scenes work. From finding the right wedding photographer to tracking down the right venue, there is one long to-do list for your future. Fortunately, it can be a lot easier than you think.
Working as a Las Vegas wedding photographer, I've seen a lot of magical marriage ceremonies, as well as a few disappointing days. Take it from me, brides and grooms, it's all in the details.
Ready to turn your romantic dreams into a reality? Here is everything you need to know about having the perfect LGBTQ wedding in Las Vegas.

Why Everyone Is Dreaming of a Same-Sex Wedding in Las Vegas
Ever since the first same-sex wedding in Las Vegas took place back in 2014, it has been an incredible time to be a wedding photographer in the self-proclaimed marriage capital of the world. 

While coming from abroad to have a same-sex wedding in Las Vegas is a big trend at the minute, Las Vegas has always been a popular wedding location for its famous chapels, breath-taking deserts, and the beautiful lakes. Whether you are from New York, Paris, Tokyo, Rio de Janeiro, or Melbourne the gorgeous wedding venues of Las Vegas will steal your heart.
Getting Married in Las Vegas: The Logistics
Before your same-sex wedding in Las Vegas, the only thing you need is a Nevada Marriage License, the first step is to visit https://mlic.vegas/ to start your marriage license application. After submitting your and your partner's information, both parties must appear in person with proof of identity (Driver's license, Photo ID, or Passport) at the Marriage License Bureau at 201 Clark Ave., Las Vegas and pay $77 fee, they work Monday-Sunday, 8:00 AM to Midnight. With your license, you'll get also the marriage certificate and your souvenir certificate, you need to take all three documents to your officiant, he will fill it up, the witness will sign and you will get the souvenir certificate back. Your officiant will take the certificate to the Clark County Clerk to record it and after ten days you can go back to https://mlic.vegas/ to order your official copy.

The Perfect Venue for Your LGBTQ Wedding in Las Vegas
As a wedding photographer in Las Vegas, I have seen a lot of gorgeous venues. If you need some inspiration for the ideal place for your same-sex wedding in Las Vegas, check out some of my favorite wedding venues from desert landscapes to luxury venues, and beyond!
Of course, the right wedding venue for you is a highly personal decision and comes down to the atmosphere you want to create and your personality as a couple. One thing that is universal, however, is that you've got to book early!
If you are booking midweek or during the off-peak season (December to February; July to September), you will have a better shot at finding the date you have in mind. It can be very hard to find an available date for a LGBTQ wedding in Las Vegas, anywhere in the country, during weekends at the most popular months of the years. Start calling around ASAP to get your preferred date.

Dive into Wedding Photography
As a wedding photographer in Vegas, I have had the incredible opportunity to play a small role in creating memories that couples cherish for a lifetime. I know how important wedding photography is, and it is so much more than just a job to me.
Keep in mind that not every wedding photographer in Las Vegas is right for you. Focus more on finding a style and personality that is right for you.
Ready to find your perfect wedding photographer in Las Vegas? Here's everything you need to know.
Your Must-Have Guide to Wedding Photography
• Find the Right Match: You have already found "The One" and now it's time to find that wedding photographer in Vegas just right for you. It is easy to find a wedding photographer with a stunning portfolio, but that doesn't mean they are the right match for you (including yours truly!).
• Decide On Your Style: To help you narrow down your quest for the perfect wedding photographer for you, think about your style. Chat with your partner, look at wedding photography sites and Instagram, then start making notes on what you love. And jot down some things you hate!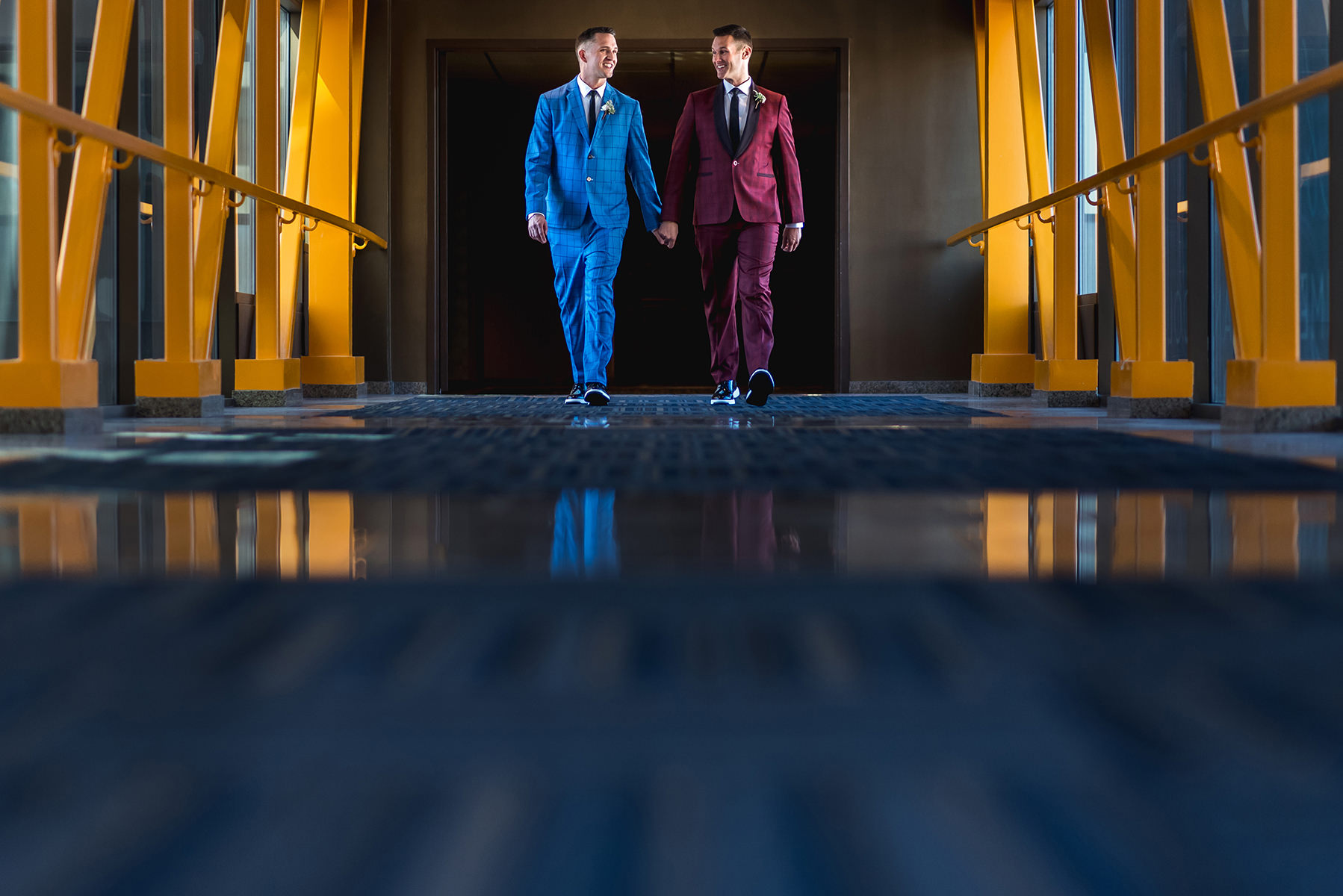 • Keep an Open Mind: Forget about just focusing on the same-sex wedding in Las Vegas trend. While there some great photographers who specialize in the "perfect LGBTQ wedding in Las Vegas," it is more about making that personal and stylistic connection. Likewise, don't focus too much on finding the greatest wedding photographer in Vegas or whichever city you are based in. Widen your search and look all over, nowadays a lot of photographers love the idea of traveling to shoot.
• Don't Go Amateur: Wedding guests can take splendid shots, but they are no replacement for a professional wedding photographer. You can never redo your big day, so make sure every special moment is captured.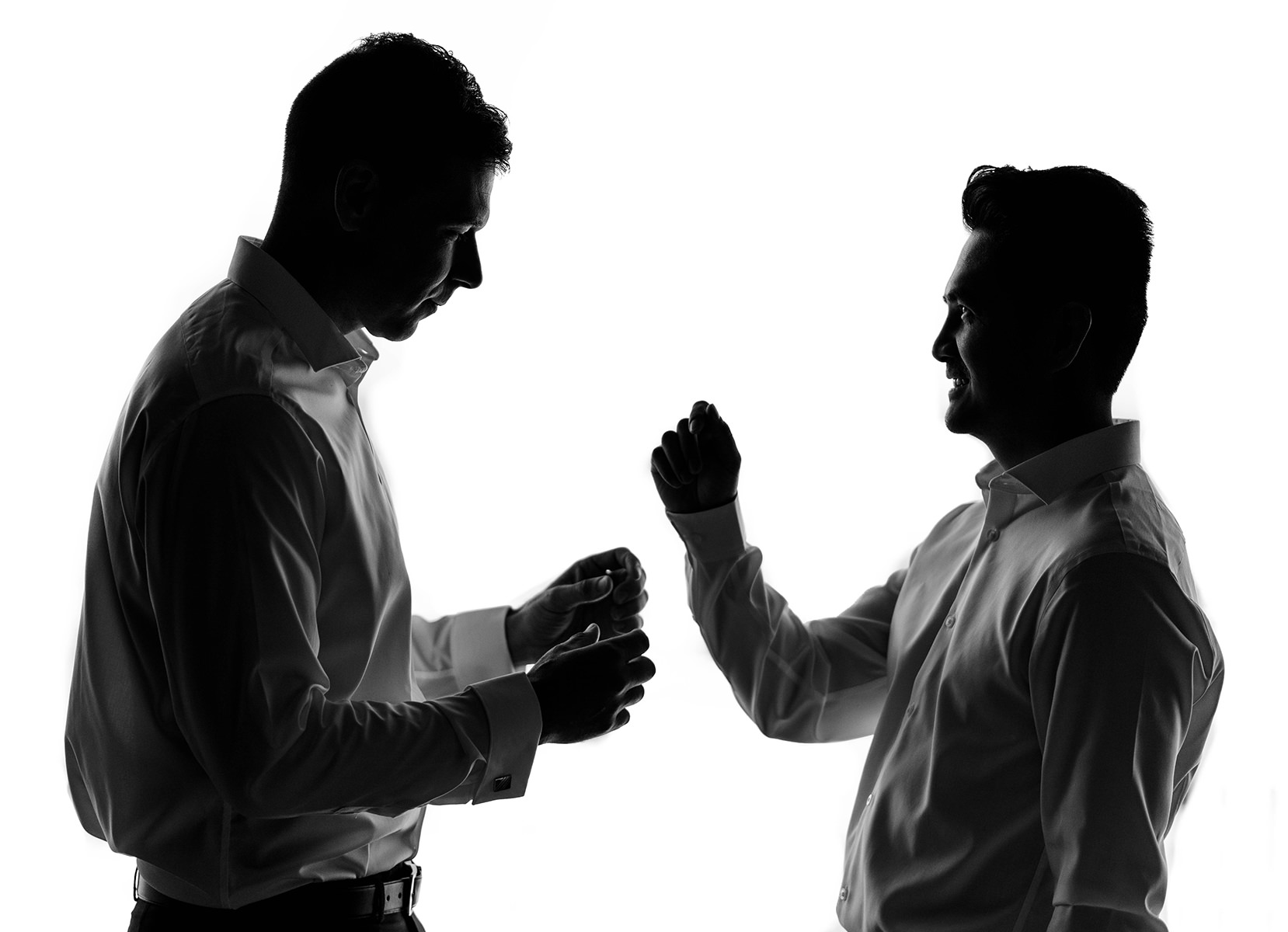 • Do a Hashtag: While a wedding photographer is a must-have, you can get some fabulous shots from your wedding guests. Encourage people to use a hashtag to post on social media. It's a cool way to share shots and relive the moment. While the professional shots are perfect for the hanging above the mantelpiece, your guests are a prime source of hilarious videos, cute candid shots, and other things that you might have missed.
• Define Beauty: Beauty is subjective. What I think is stunning could be completely different from what you think is pretty. Communication is everything here. When you find the right wedding photographer for you, bring in some sample pics. Show shots you like and shots you don't. Point out specific aspects that caught your eye, both in a good way and a bad way.
• Steer Clear of Trends: There are some wedding trends that I adore but, like most things, it is all about moderation. The best wedding photos are timeless. Just like old wedding pics that scream "1970s" can seem incredibly dated and downright silly now, you might regret diving into some of the overdone trends we are seeing this decade. Of course, do what you love, just don't get too taken away with trends for the sake of being fashionable.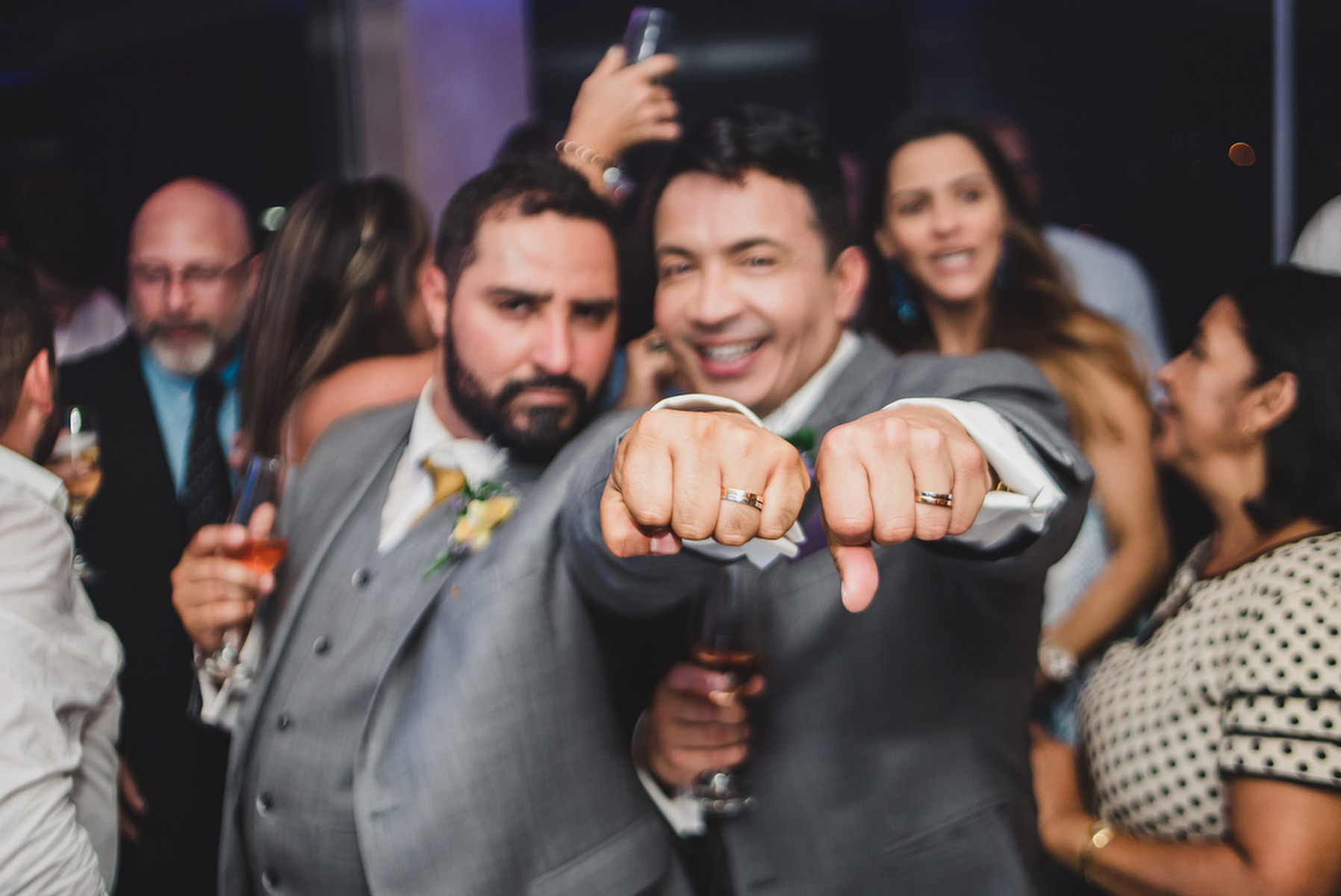 • Do the Engagement Session: Too many couples skip these and I think it is a mistake. Your engagement session is the time to create a connection with your photographer. There are so many stunning places to go with your wedding photographer in Las Vegas, so get out there! Experiment with locations, angles, and styles. It will help you get comfortable in front of the camera, and it will give you a stress-free, distraction-free photo session where you can prepare for the big day.
• Make a List of DOs and DON'Ts: Once you have your engagement session photos in hand and have had time to look through more wedding photos, plan for another chat with your wedding photographer. Give more detailed feedback. Remember, everyone is different and even the best wedding photographer in Las Vegas can't read your mind. Some people love candid shots. Other people don't like pics where they aren't smiling. The list of preferences is endless so, remember, say something about everything that catches your eye.
• Get Natural in Front of the Camera: Now is the time to practice your model moves! Get comfortable just being in front of the camera. Don't feel like you always have to be posing or staring at the camera. It might feel unnatural, but try to push yourself to just "be you" when the camera is there. You will be creating so many memories during your engagement so capture them in photos! From your engagement party to shopping for wedding apparel and flowers, it's worth photographing. And, these are all prime times to bring out the camera and get comfortable.
Put Together Every Detail in the Ultimate Pre-Wedding Checklist
Of course, as a wedding photographer in Las Vegas, my main focus is on aesthetics and tracking down the most beautiful spots in the valley, but I still know there are a lot of logistics to deal with when planning a wedding. I've met a lot of happy couples on the question for the coveted "Perfect LGBTQ Wedding in Las Vegas" and I know it doesn't just happen overnight. That's why I've connected with some of the top wedding professionals in Las Vegas to create the ultimate checklist.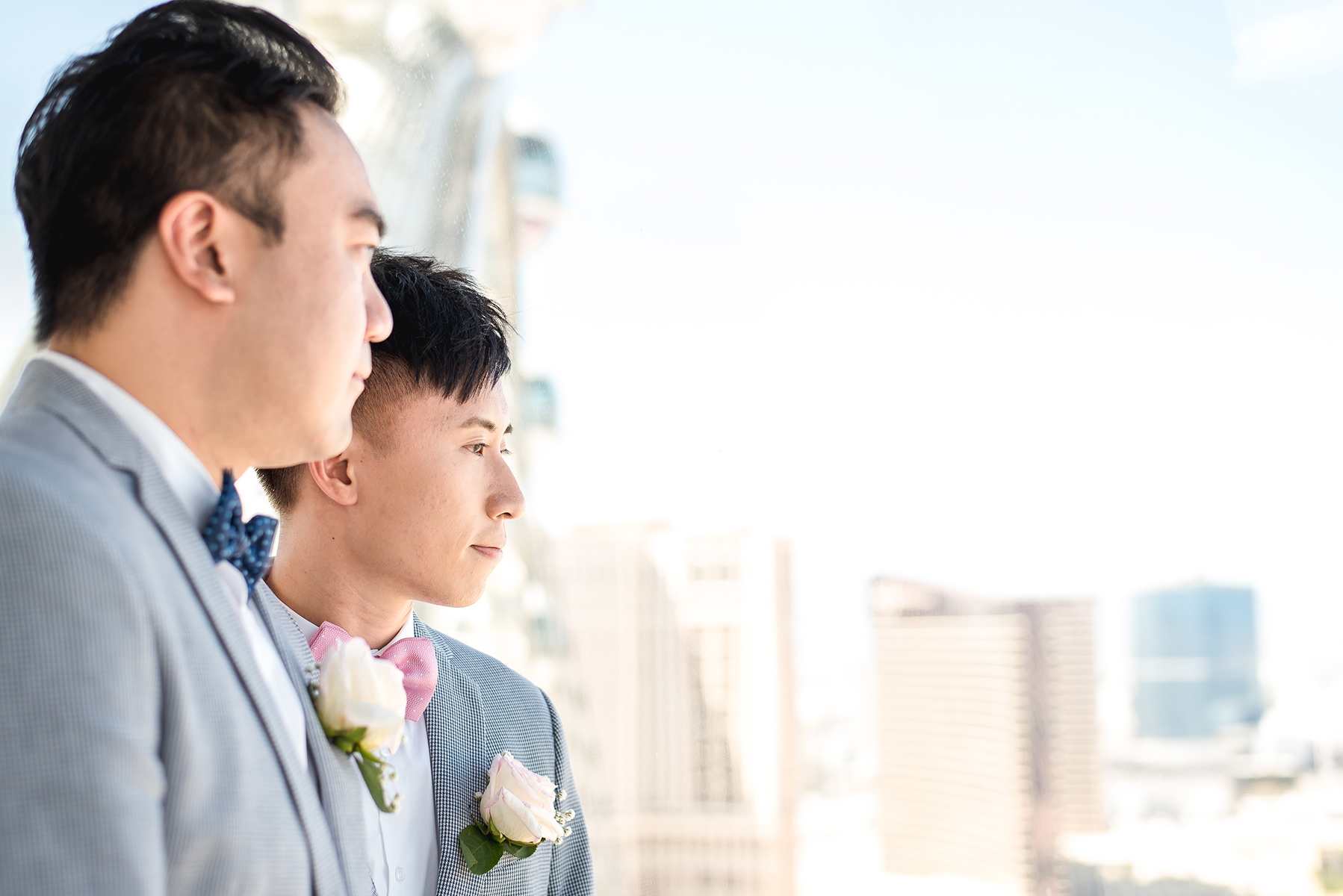 Creating the Perfect LGBTQ Wedding in Las Vegas: Your Ultimate Checklist
1) Start a wedding folder: Real or virtual, you've got to start by getting it all in one spot.
2) Make a budget: As much as I love a good wedding, it's not worth blowing the mortgage.
3) Decide who will be there: Who do you want to invite? How about a wedding party?
4) Book the venue: As soon as you have an idea of your wedding size, find your dream venue.
5) Visit the Nevada Marriage License to submit your license request: See above.
6) Hire a wedding officiant.
7) Choose your perfect wedding photographer in Las Vegas.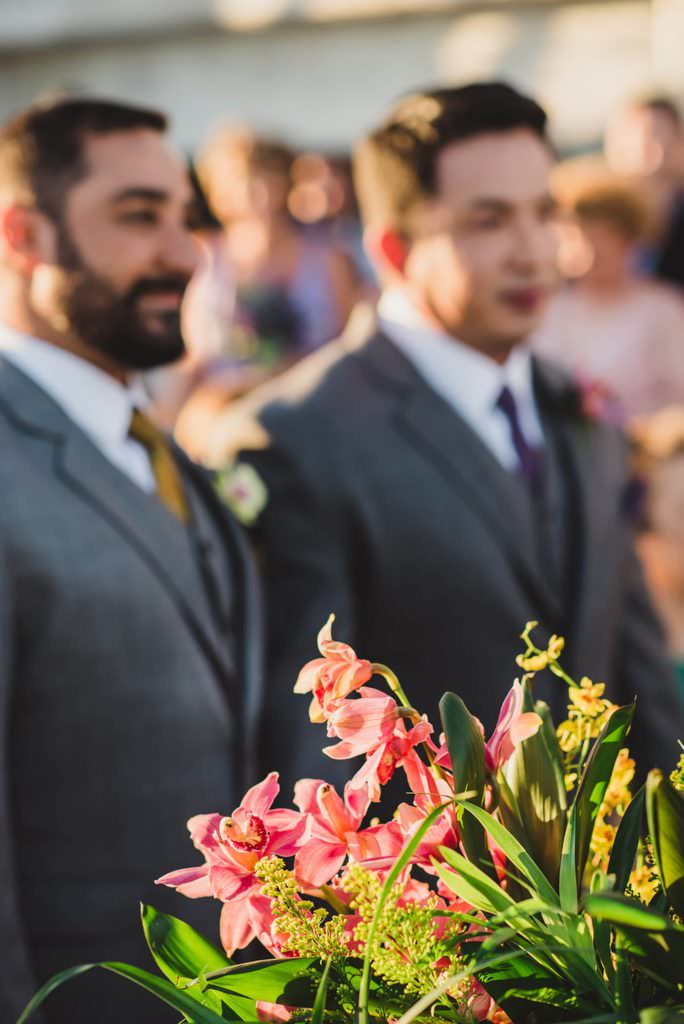 8) Decide on your band/DJ, flowers, transportation and catering: This will be a major step so plan ample time. The average couple is engaged for 15 months before the big day so don't feel like you need to do it all overnight. Send me a text, DM or email if you need recomendations 🙂
9) Start using a calendar: Create a shared calendar that you can add every last detail to. Once you have your vendors, you'll need to check in with them every so often for a wide range of things. They'll guide you through how the process works on their end, so your main job is to keep track of it all.
10) Start shopping for your wedding apparel: Find gear that will make you feel confident and comfortable.
11) Buy the rings: As a wedding photographer, I've come across so many cool ring trends. Rather than just grabbing a couple of gold bands, find a style that reflects your unique couple style.
12) Book hotels: Have guests coming in from outside of Las Vegas? Make sure they have a place to stay.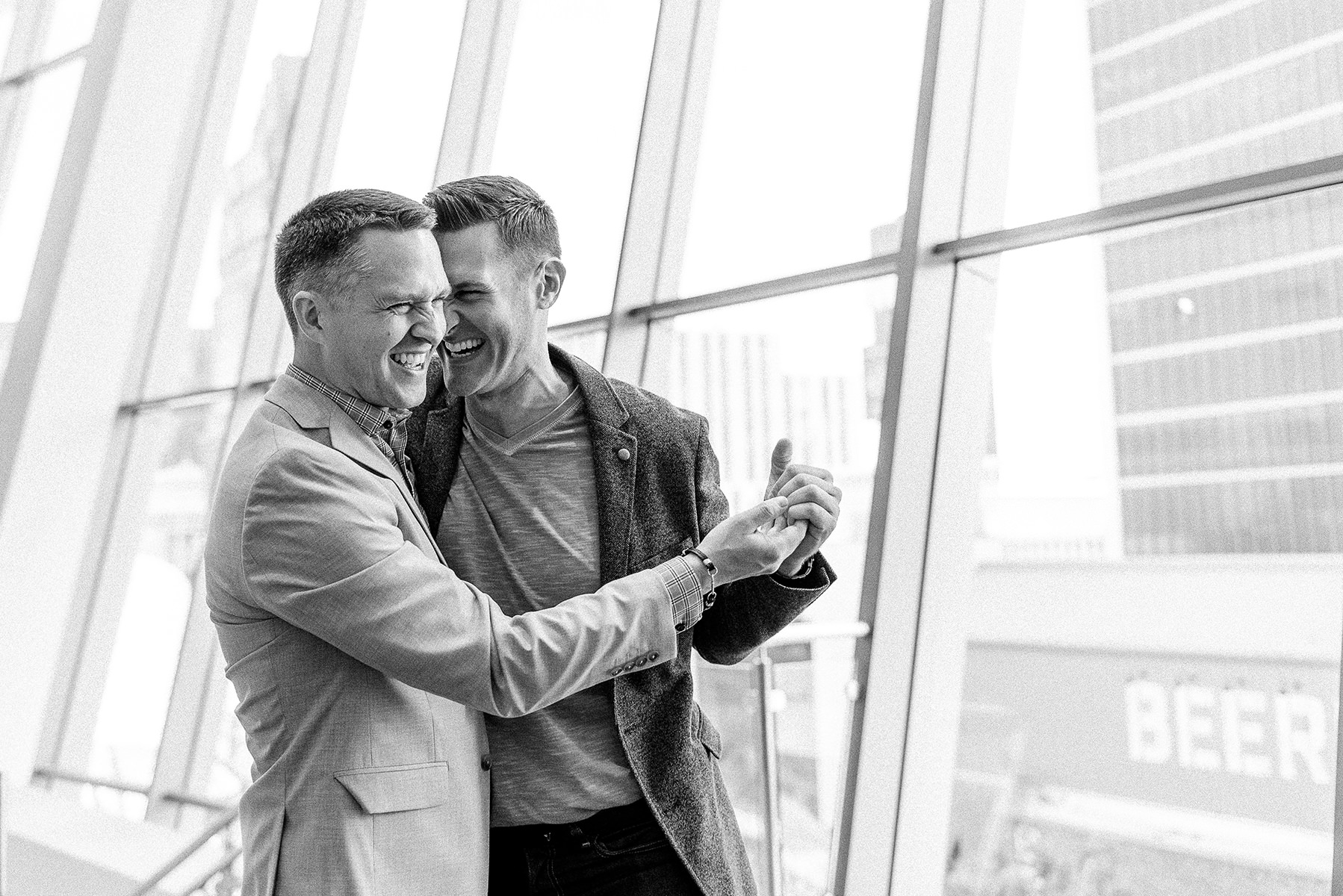 13) Register: It is good to use at least three different retailers with some online options so that your guests can find you a lovely gift, regardless of their budget and location.
14) Prepare your wedding invites: This can include "save the date" cards, and whatever else suits your couple style.
15) Plan that honeymoon: Whether your dream LGBTQ wedding in Las Vegas is followed up by a National Parks road trip or a sojourn around the world, plan your honeymoon well in advance so that you can get exactly what you want.
16) Choose your wedding cake: Let's not talk about those vendors who would like to rain on every same-sex wedding in Las Vegas and let's celebrate the awesome LGBTQ-friendly vendors around.
17) Bacharolette party, anyone?
18) Prepare for your rehearsal dinner: Wedding traditions are always changing and things are becoming more customized, which is a very good thing! There are new rules on who should come to the rehearsal dinner, and it basically means that you can invite whomever you want.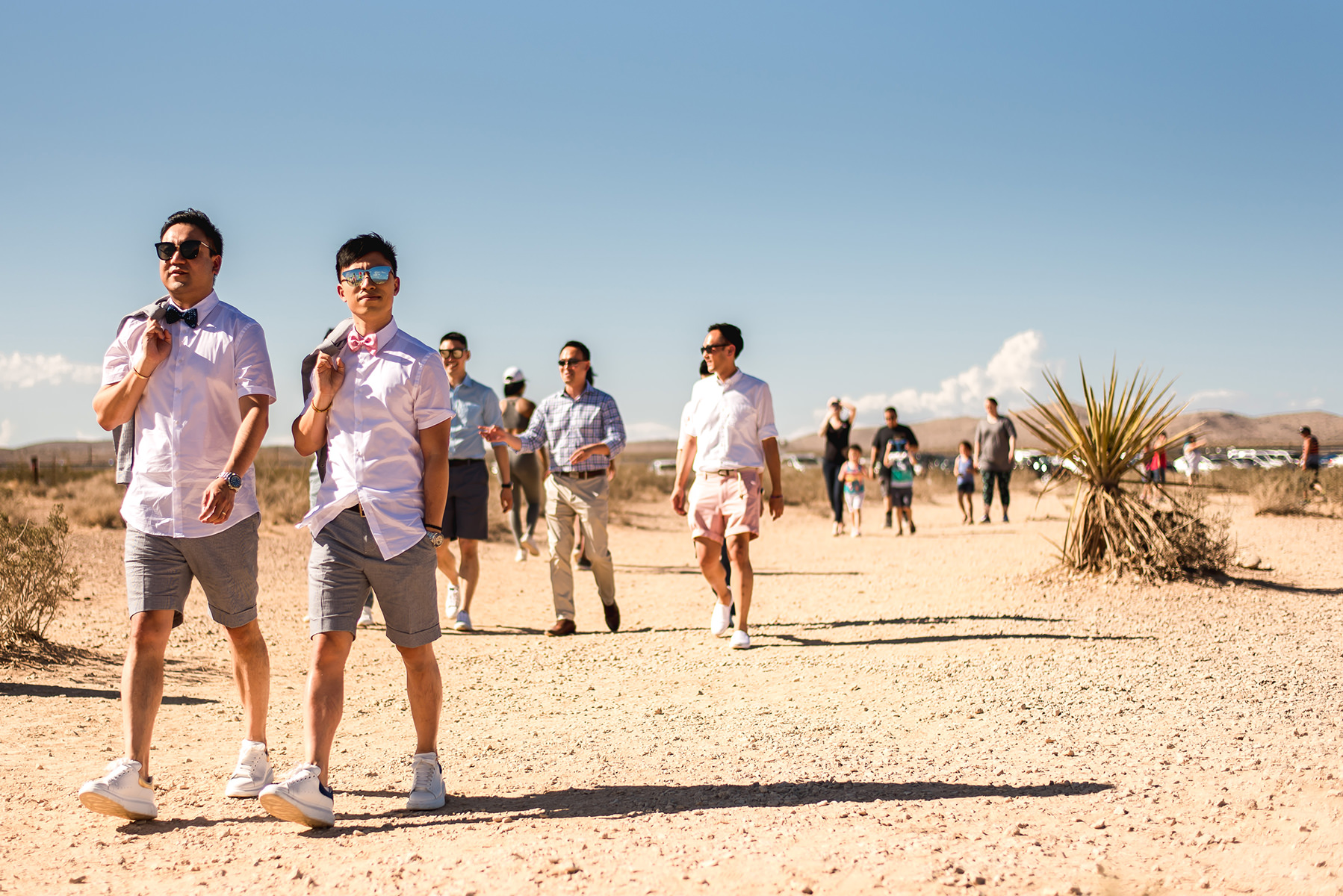 19) Make a seating chart: This can feel like a complicated math problem, but just try to keep it simple.
20) Write your vows: See seating chart advice above.
21) Take a deep breath: This is your big day! Laugh, cry, and make it your own.